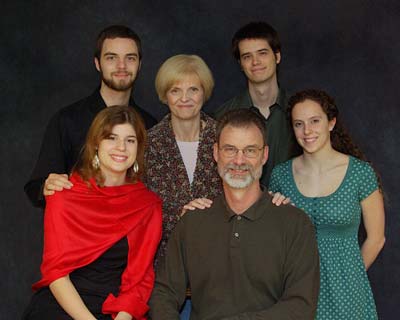 Hard to imagine, but once upon a time, almost no one homeschooled. So in 1991 when Maggie and Bob Hogan decided to homeschool their two sons, they were hard pressed to find resources. In response to this difficulty, Maggie and Bob often resorted to creating their own teaching materials. After their friends expressed interest in using the Hogans' materials, it wasn't long before other homeschool families were requesting them as well. Maggie began travelling around the country speaking at various conferences, encouraging homeschool moms, and creating handouts of the resources she developed. These handouts grew into books, and Bright Ideas Press was born in 1992.
Because Maggie was a homeschool mom herself, her company understands that homeschooling moms are busy! That's why the Bright Ideas Press team has committed to publishing Christian-oriented curriculum that won't complicate already hectic lives— curriculum that is both affordable and easy to use with children of all different ages at the same time.
Bright Ideas Press is a group of writers, educators, homeschool graduates, and curriculum developers that work alongside the Hogans. Maggie is the creative director: the visionary, the dreamer, the planner of new products. Bob, having retired after 35 years with the US Treasury Department, takes care of the bookkeeping and runs the business side of the company. Together Maggie and Bob form the dynamic duo that is both the creative and financial spine of Bright Ideas Press.
The Hogans' two sons, JB and Tyler, both graduated early and have gone on to contribute in various ways to the Bright Ideas Press mission. JB, after spending five years in the army, wrote a book about his experiences called From Basic to Baghdad: A Soldier Writes Home, published by Bright Ideas Press. He is now a scriptwriter living in Nashville with his wife, Christy; they occasionally write literature study guides for Illuminations.
Tyler graduated with a degree from Belhaven University and is now corporate vice president at Bright Ideas Press. He does a lot of work creating and developing products (WonderMaps!), teaching classes, managing the office, and so much more. Tyler is married to homeschool graduate Helen, who does many of our illustrations. They have two little girls, Kaylee (2009) and Avalon (2011), with another one on the way!
Other key members of the team include Beth Barr—head of the order processing department; Melissa Craig—writer, homeschool mom, and special project assistant; Stacey Lane—product development for visual learners; Lyma McFall—Illuminations overseer; and Celeste Rakes—author of the All American History series and head manager for product development.
The Bright Ideas Press Team also includes a wonderful group of interns, editors, graphic designers, writers, and more, who all contribute wholeheartedly to the company's mission of providing high quality, Christ-centered curriculum that is both affordable and practical.
The Hogans continue to pray that their products will simplify lives and also inspire, encourage, and enable parents to educate their children effectively. That's why Bright Ideas Press curriculum is "Curriculum Moms Love."

It's been a great twenty years. We have been so blessed to get to know our customers (many of whom have become friends), and your encouraging words continually refresh us. Thank you!!