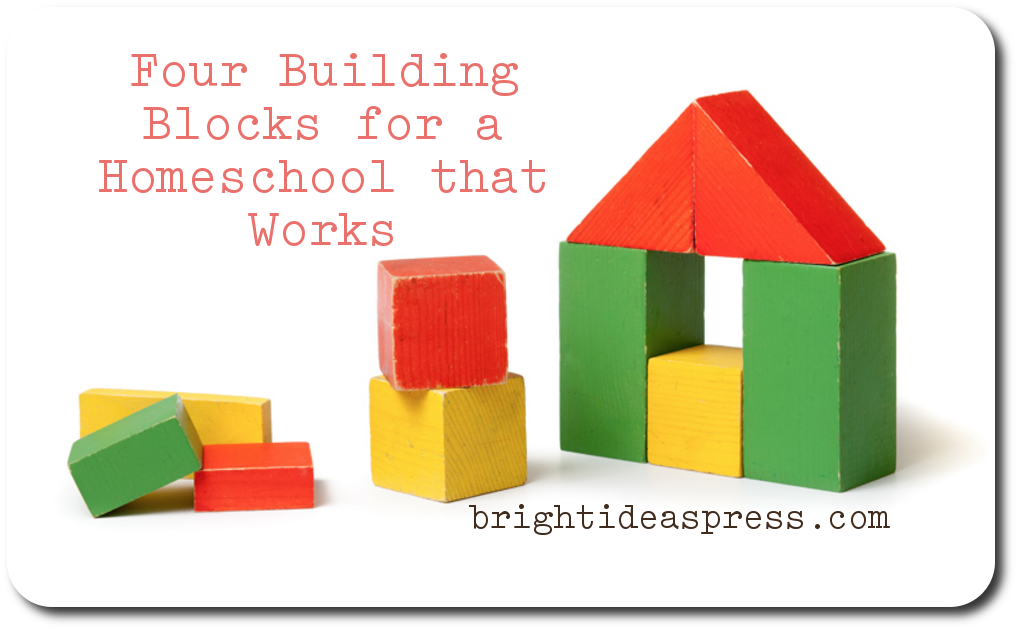 Based on my years as a homeschool mom, I want to share four important building blocks that every homeschool mom needs to remember. These are simple truths, but we all need to be reminded of them. It is too easy to forget the bedrock truths when life gets messy.
I learned each one through personal experience and hope that they encourage you along this homeschool path.
1. You Can't Do it All
Are you a person who tries to teach everything at the same time? Do you worry that your child isn't studying exactly the right material for her grade?
In our zeal to be the best teachers we can be, we often put unnecessary burdens upon ourselves. For example, let's say you have picked a particular publisher and are following its history scope and sequence. According to the prescribed program, fifth grade is American history, and sixth grade is world history. You have both a fifth and a sixth grader. Are you the mom who attempts to teach two completely different history courses the same year?
Why?
Don't do that to yourself or to your kids. History is the ideal subject for families to study together. Publishers' scope and sequences may provide you with some guidelines, but they aren't the law.
So please, cut yourself some slack! Teach the same time period to all your students together.
2. Teach Them How to Learn
This is vital. Realize that you can't, no matter how hard you try, cover everything. Nobody can.
What you can do is teach your children how to learn– how to research and how to think critically. We can't supply our children with all the facts that are there to learn. We can, however, supply them with the necessary tools for being independent learners.
3. Let it Go
No matter how great we're doing, most of us think we should do more. Let it go.
Think of your job as laying a foundation and then layer upon layer each year. Don't try to erect an entire skyscraper in one year.
4. Look to the Lord
Without prayer and wisdom from God, no homeschool can truly succeed. Look to Him who loves your children even more than you do.
By implementing these four building blocks, you will have the freedom to enjoy homeschool without undue pressure. When you wonder if your homeschool is on track, ask these four questions.
Did my children learn?
Do they want to learn more?
Was God honored in our home?
If you can answer yes to each one, then you are on the path to homeschool success.