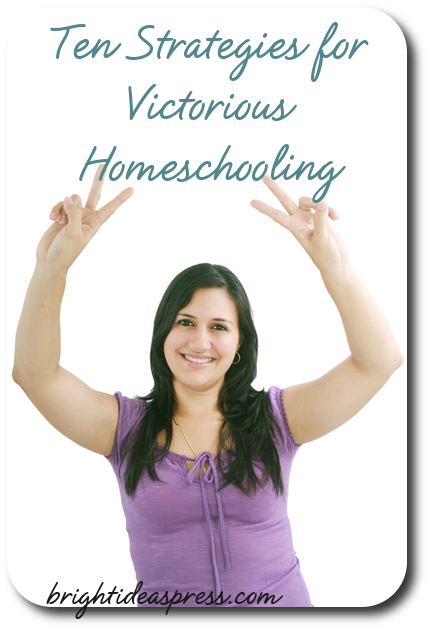 How is homeschool going for you? Could you use a few pointers for making your time more efficient and stress-free? Here are ten strategies that give you victory over the many challenges that come with educating our children at home.
1. Be Logical
Use history as your cornerstone. Start wherever you are and work forward chronologically. Or go back to the beginning and progress onward. It's easy to tie literature, geography, art, and music into your history foundation.
2. Invest
Select interesting resources that both you and the kids will enjoy. Buy kits, games, and costumes, for Christmas and birthday presents. Give the grandparents a wish list. Purchase items that have tremendous appeal and/or long-term value.
3. Catch-up
Overwhelmed? Feel like you are falling behind? Take an entire day or more and use it to catch up in one subject. You can cover an amazing amount of territory in a single day of focused attention.
Have a special pizza and school night if you and your kids work well in the evening hours. Then camp out in the school room and play favorite games when everyone's work is completed.
4. Delegate
Plan on-going jobs your children can do independently. Use non-school time to train them properly in their chores which gives you more time to do your mom role while teaching them responsibility.
5. See the Big Picture
Keep maps and a timeline visible for a constant reminder of where and what you are studying for homeschool lessons.
6. Notebook
Have students record and document what they are learning in a notebook.
7. Get Ahead
Grab an hour or more when you and the kids are feeling on top of things to intentionally get ahead in some area. getting ahead provides a great source of accomplishment and is like putting money in savings. You'll really appreciate it when you need to draw on the time you invested.
8. Take Homeschool Holidays
Take a break for a week or two when needed. Teacher Planning Days are allowed, even recommended! Make your own special family holidays and keep them.
9. Solicit Wise Counsel
Enlist the support of your husband, friend, mentor, or senior at church to encourage you and be a resource for information and ideas.
10. Get a Reality Check
Periodically look up from the books and ask questions about your homeschool. Are we learning anything? Are we enjoying the process or getting burned out? Are we displaying Christ-like attitudes?