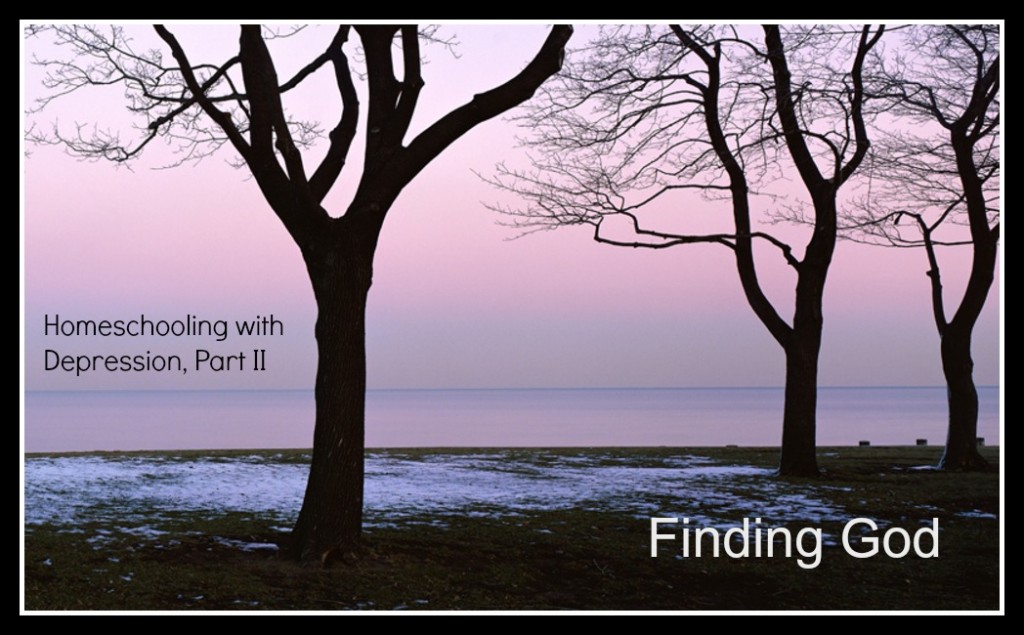 I am an expert at homeschooling while fighting depression because I've done ongoing battle with this disease for many years.
Recently I was chatting with a dear friend who asked me how I was doing.
I said, "Great! I'm like a new person! I feel like I've awakened from many years of sleep!"
She replied, "Then you have just come out of a deep depression."  She was right. Suddenly I was looking forward to tomorrow. I enjoyed things. I had purpose.  I was no longer clinging to certain things trying to avoid being dragged under. I was walking aloft, strong, and upright.
Now, recently emerged, I have some perspective. In Part I I shared some practical tips for coping through depression as a homeschool mom.
However, one of the things that was hardest for me when I was walking in the dark was finding God because when you're in the depths of depression, you often feel abandoned. But He's still there. He's always there! Here's what I learned when I felt lost.
Cling to His Promises
You know His Word. You know He makes promises even when you have trouble understanding or experiencing them. I clung tightly to Jeremiah 29:11, where God says,
"For I know the plans I have for you…plans to prosper you and not to harm you, plans to give you hope and a future."
This was far beyond anything I could imagine. I had no hope, and no concept of a future. But I clung to this truth because he tells me it is true. And now I can see it.  So search scripture. What promises can you cling to?
Surround Yourself With Scripture
When you find verses that speak to you, write them on index cards and post them around you so you can see them all the time. You can use these free, printable Scripture cards.
Something is Better Than Nothing
We often find ourselves frustrated because we have not spent enough time with God. But we need to remember that something is better than nothing. Find a devotional and read it. If that's all you do, something is better than nothing.If you don't do it every day, rejoice over the days you do. Something is better than nothing.
Count Your Gifts
Read Ann Voskamp's One Thousand Gifts: A Dare to Live Fully Right Where You Are
. This book was transformational in my life. When you cannot feel God at work, look for your gifts and count them. Be intentional.
Journal
Journaling allows you to see your growth. It gives perspective and gives you a place to pour out your emotions. Sometimes my journal posts are letters to God. Sometimes I just write about the day. And I don't journal every day. But I do journal.
Going back and seeing where God has taken you and what He's brought you from is a tremendous encouragement when you feel that He is far away.
Listen to Music
I don't know that I could survive without music. I have a playlist called Encouragement, full of worship music that reminds me that God loves me no matter what and that others struggle with this life, too. I am not alone.
Earworms
That's not very appealing, I know, but I'm fairly sure that God gives me earworms when I'm struggling. Earworms are bits of songs that play over and over in my head.
One that lived with me for the last several years is from a Rich Mullins' song (recently remade by Big Daddy Weave),
"So hold me, Jesus, 'cause I'm shaking like a leaf. You have been King of my Glory; won't you be my Prince of Peace?"
In other difficult periods, he has given me the hymn, "Jesus, I am Resting, Resting." Listen for the earworms he gives you.
Reach Out
In the midst of depression, life is overwhelming. We turn inward. We become self-focused. How can we not when just getting through each day is a challenge? But focusing on others is a mood-lifter. It draws you out of yourself. Do something simple. Send a card, drop an e-mail, ask someone how you can pray for them. It can be tremendously rewarding to draw out of yourself for awhile.
Depression is difficult. It's heart-breaking. But you are not alone. Even when you cannot feel it, God loves you very much. He will never leave you nor forsake you. Even when you cannot feel it, cling to the promise.