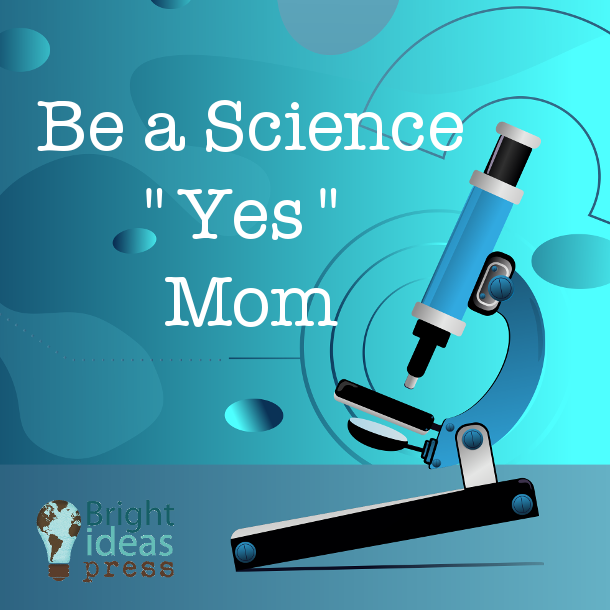 Often homeschooling moms are intimidated by science instruction. It always makes me a little sad because science shouldn't make people nervous. Follow these steps to be a science "yes" mom.
How to Be More of a Science "Yes" Mom
Provide an environment in your homeschool that invites questioning and allows your children to investigate an answer. Do you operate by the book all the time? Do you have enough margin in your day to take a detour? Those rabbit trails can be great opportunities for scientific investigation.
Try not to be intimidated by formal processes and lots of planning. Let your kids ask the questions. All you do is provide the time and materials for letting them finding an answer on their own.
What about curriculum? Use science curriculum as a starting point, especially if your students aren't accustomed to asking the questions. Or approach your curriculum investigations in the same informal way.
Experiments don't always have to be recipes from a book. It's true. Scientists who do science for a living aren't always following other people's directions. Many have to lead the way and the good ones forge out on their own. Your children can do the same!
Not a science person? It's ok to be a problem solver with your kids! Give them the time. Show them how to go about finding an answer or solving the problem. Make sure you have materials around that promote science education. Then stand out of the way. See what happens!
Tools for Being a Science "Yes" Mom
Being able to do science more easily means having the right tools for the job. Now that my children are older, I like to avoid using kitchen items for our science. If that's what you have available, then designating some kitchen tools for science makes things easier than having to answer for each item when you are busy and your students want to investigate. Here are some basics to have on hand:
Meter sticks, yard sticks, tape measures — to measure long distances with
Graduated cylinders— to make accurate liquid measurements
Beakers— to hold and pour liquids
Balance or scale— something to handle mass and weight both large and small quantities. A digital kitchen scale works, but it's fun to learn how to use a triple beam balance
Thermometers—ones besides those you use to measure fevers. Digital types are okay, but make sure you can immerse the probe into liquid.
Simple science kits— with clear directions and in different sciences (physics, chemistry, biology, earth science).
Tinkering materials—doodads for kids who like to build and explore. See the 10 (or so) Best Tinkering Gifts for Your Inventor.
The key to being a science "yes" mom is to allow your students to ask questions and then taking the time and the materials to see if you can find the answer. Information is only a click away, and it doesn't cost a lot to say yes to science learning!
How to Make Homeschool Science Come Alive
Learn more about being a science "yes" mom by watching our hangout tomorrow at 2 PM central time/ 3 PM eastern time when Tyler Hogan and three other homeschool moms discuss How to Make Homeschool Science Come Alive. If you can't make it live, no problem! the hangout is recorded to YouTube, and you can watch the video right here.