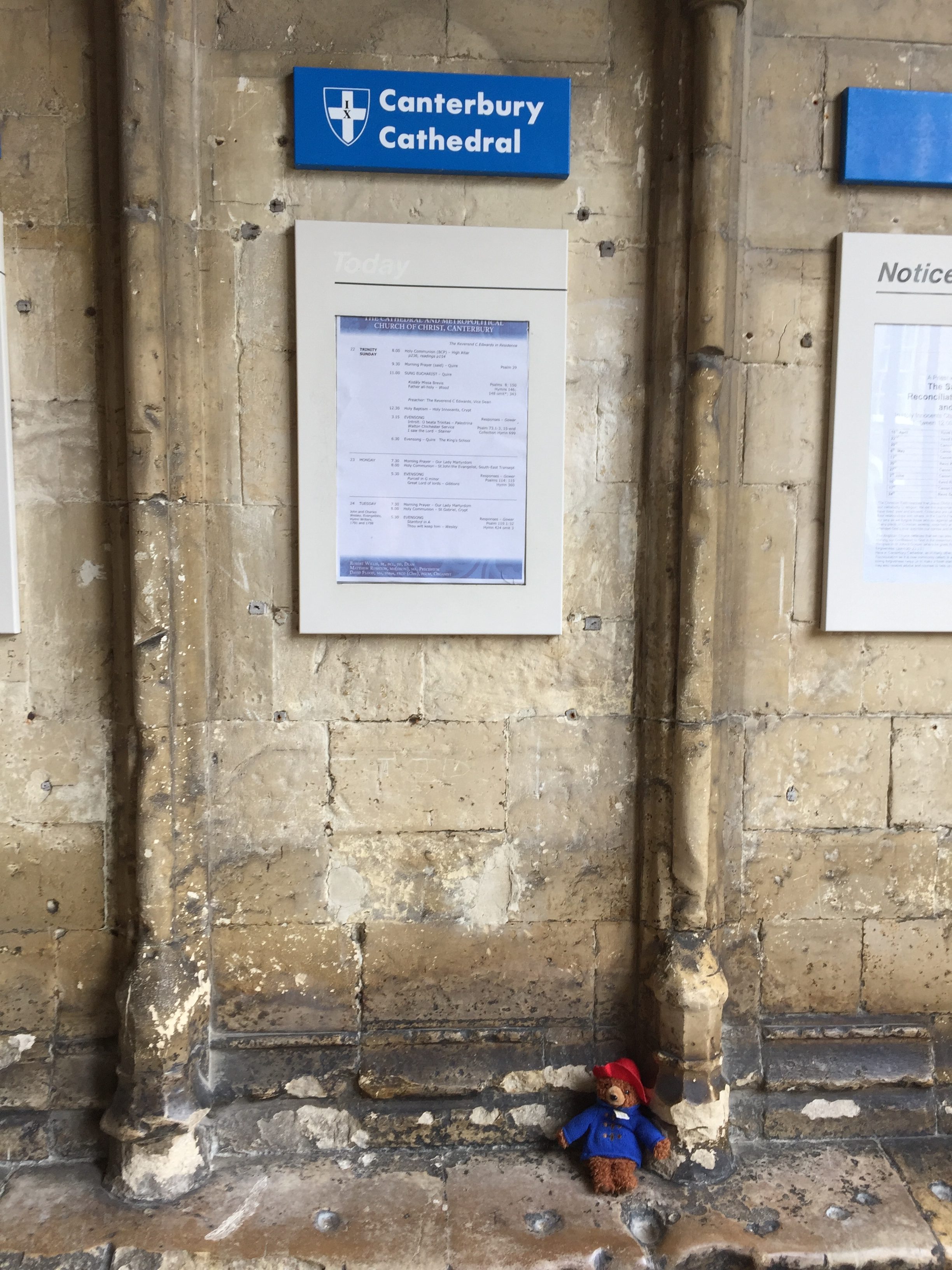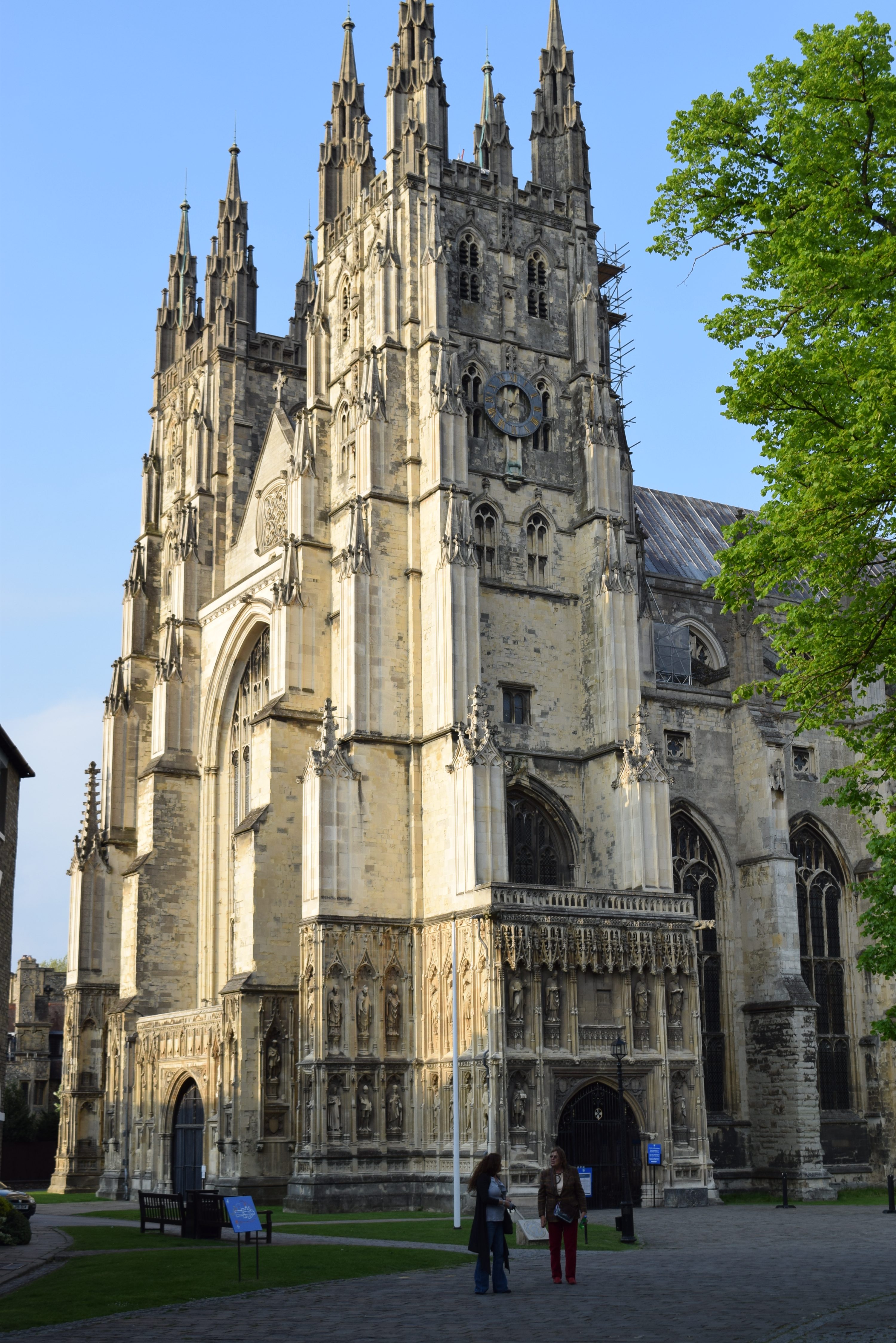 Yesterday's photo showed Paddington at Canterbury Cathedral! Did you guess correctly? Keep reading for more information about this fascinating site.
Canterbury Cathedral was one of the first Christian locations in England. Back in 597, Pope Gregory sent 40 monks led by St. Augustine to tell the people of England about Christ. (Please keep in mind that this is a different St. Augustine than Augustine of Hippo, who is also a great St. Augustine from a couple of centuries earlier.)
When Augustine and the other monks arrived in Britain, they were met by King Ethelbert and his wife, Queen Bertha. Queen Bertha was already a Christian. She was from Tours, France and only agreed to marry Ethelbert if she was allowed to continue to practice her religion. After the king came to know Christ and was baptized, Ethelbert gave the monks land to start two churches. One was outside the city wall, and the other was inside the city wall. The land outside the city wall was used to build St. Augustine's Abbey, which was a very big church and monastery until 1536-1540 when Henry VIII closed down all the monasteries and abbeys in the country.
You can read about Gregory the Great in The Mystery of History Volume II, Lesson 27.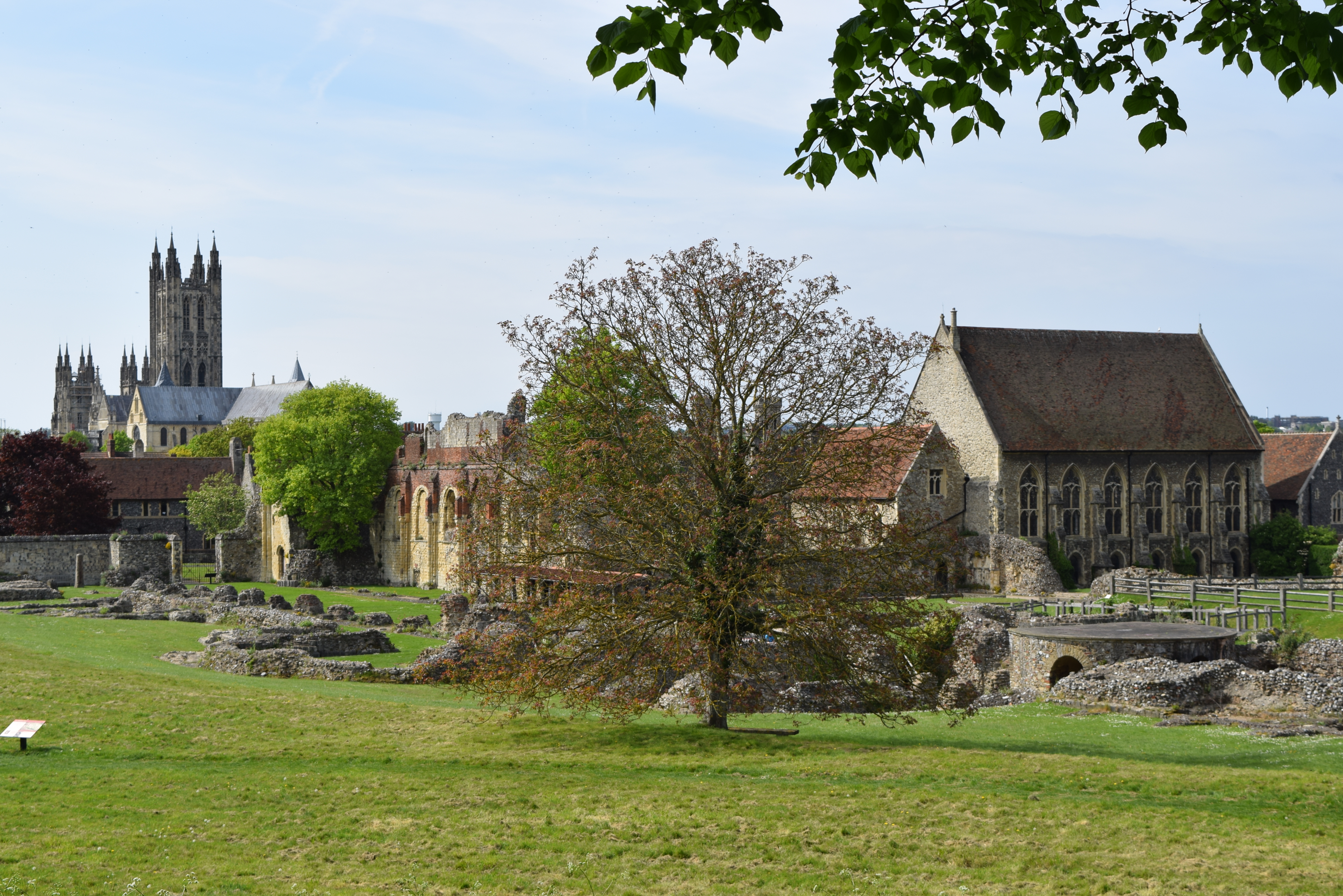 St. Augustine built a church inside the city walls, and this church grew to become Canterbury Cathedral. St. Augustine's was still the preferred church for pilgrimages until one historic event, which you can read about in The Mystery of History, Volume II, Lesson 58. During the reign of Henry II, Thomas Becket worked for the Archbishop of Canterbury Cathedral. He did an outstanding job. He was so good, in fact, that the king took notice and promoted him to Chancellor – a position high in the British government and close to the king. He and Henry II became very good friends, and when the Archbishop of Canterbury died, Henry II gave this position to Thomas Becket, thinking that now Henry would be able to control the church through Becket. However, Becket took his role as Archbishop very seriously and began standing up for the church in times of controversy. This made the king angry, and Becket had to flee for his life. He stayed in France for several years until 1170 when he was led to believe that it would be safe for him to return to Canterbury.
In the meantime, Becket heard about several government officials taking advantage of their authority and doing things they really shouldn't. He excommunicated them one by one, meaning that they were no longer part of the church. At this time, excommunication was very serious and offensive.
Although no one's quite sure of Henry II's exact words, he is thought to have said something like, "Who will rid me of this troublesome priest?" The knights who were there when he said this took it as a command and went to Canterbury to take care of the king's problem. The knights demanded that Becket go to Winchester to account for what he'd done, and when he refused, the knights rushed in with their swords and murdered Becket in the cathedral.
The picture below shows the location of the murder. The sword sculpture on the wall hangs over where Becket was killed. The bumps in the wall are what remains of the steps that he came down before the soldiers attacked.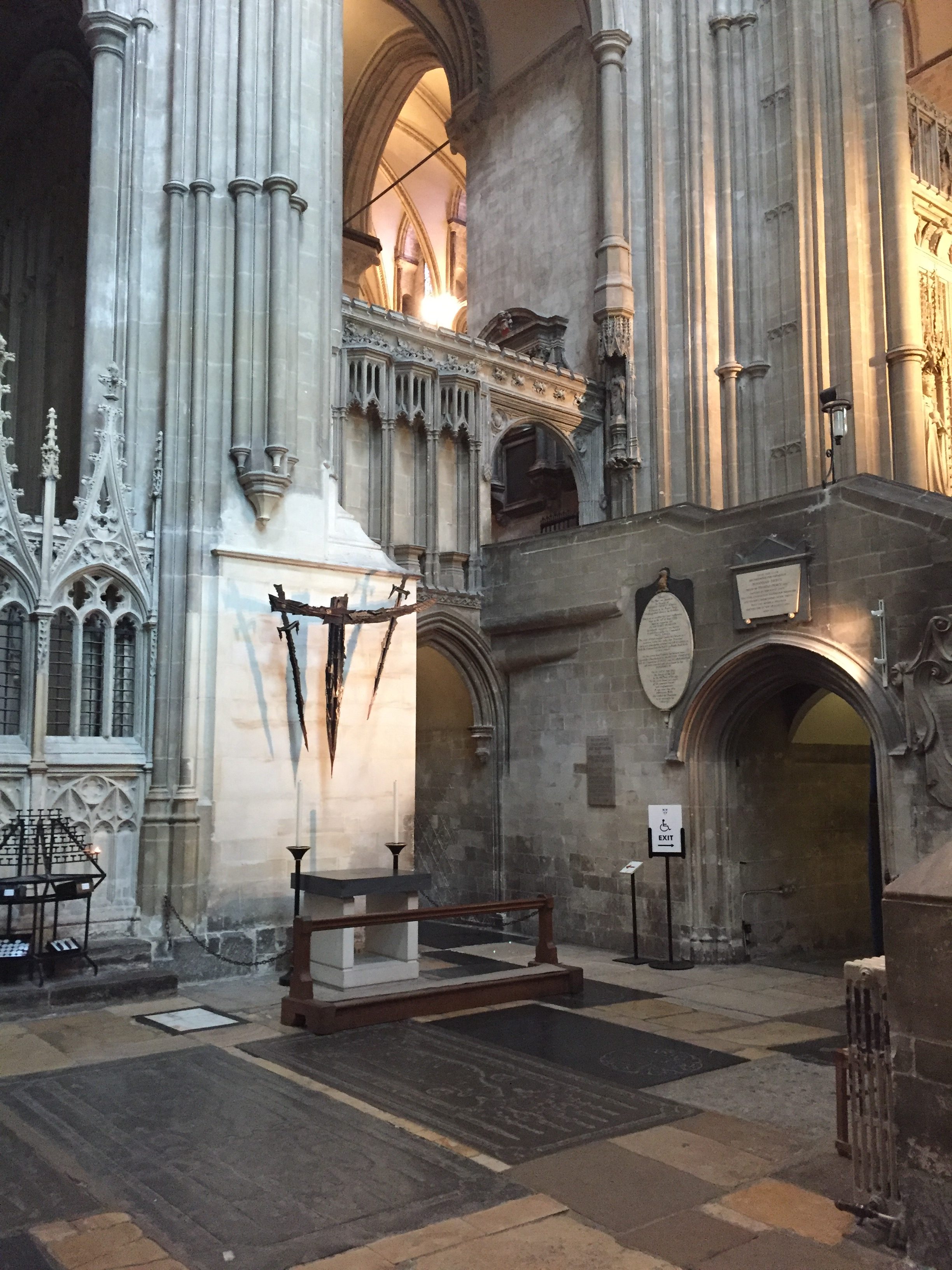 It was this murder of Thomas Becket that made Canterbury Cathedral especially famous, prompting people to begin making pilgrimages there so that they could pray at the tomb of Thomas Becket. Pilgrims hoped that their prayers would be more powerful because they were close to the body of a saint.
Pilgrims bowed and crawled their way up these very stairs to reach Becket's shrine. You can see how worn the stairs are in the photo below.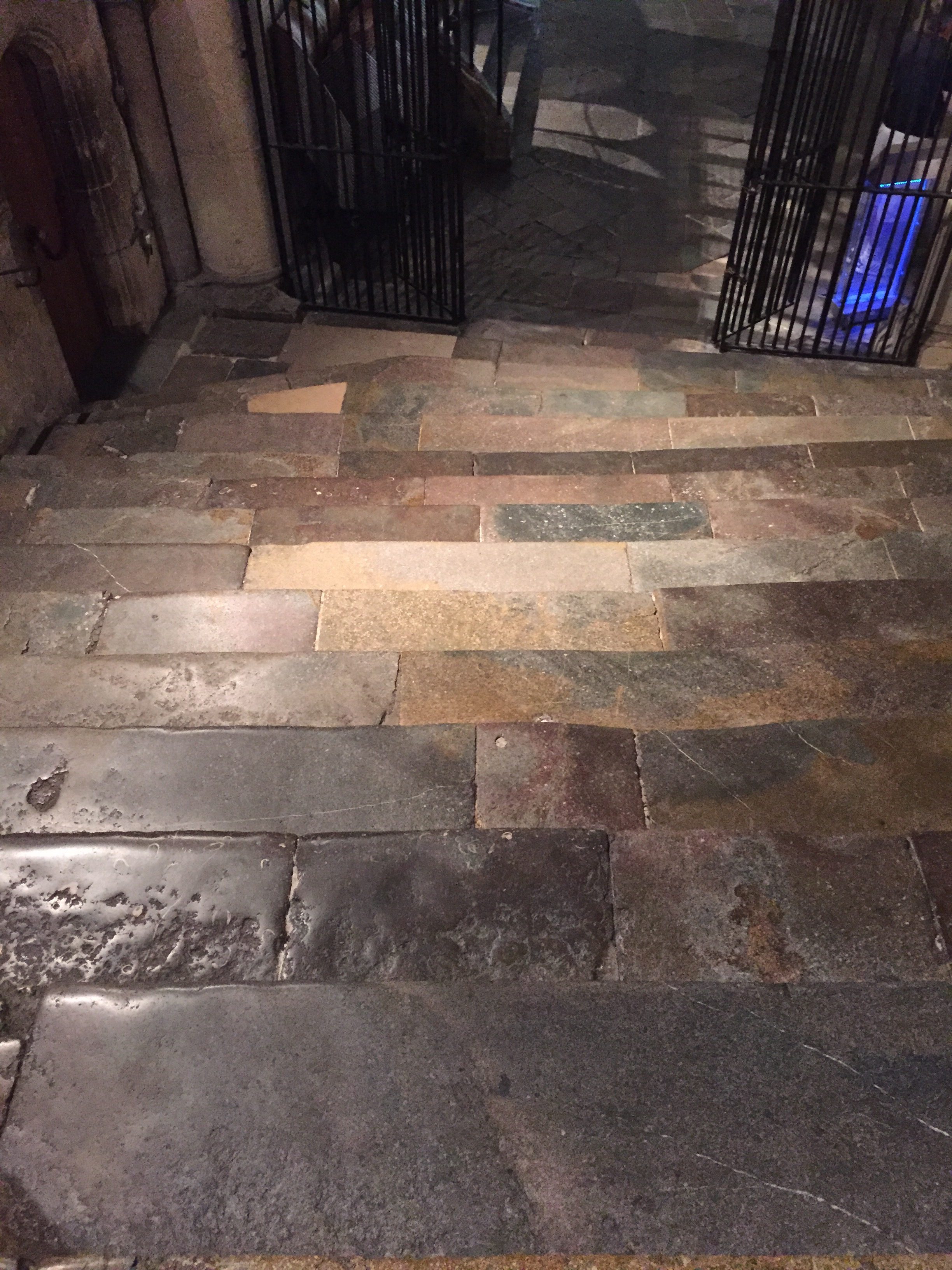 Pilgrimages to Canterbury Cathedral were so popular that they became the basis of a famous piece of literature by Geoffrey Chaucer, called The Canterbury Tales, in which pilgrims who are on their way to Canterbury agree to tell some tales to pass the time. You can read about Geoffrey Chaucer and The Canterbury Tales in The Mystery of History, Volume II, Lesson 79.
Four years after Becket's death, part of the Cathedral burned and and had to be rebuilt. A couple of hundred years later, even more of the church was rebuilt, so that if Becket were to return today, he would hardly recognize it. Our tour guide said, "This part of the cathedral is new, and Becket wouldn't recognize it. Well, it's not new-new. It's old new" because it is seven hundred years old! Regardless of how new different parts of the building are, it is amazing to imagine that people have worshiped Christ on this site for 1400 years!
Medieval Stained Glass from Canterbury Cathedral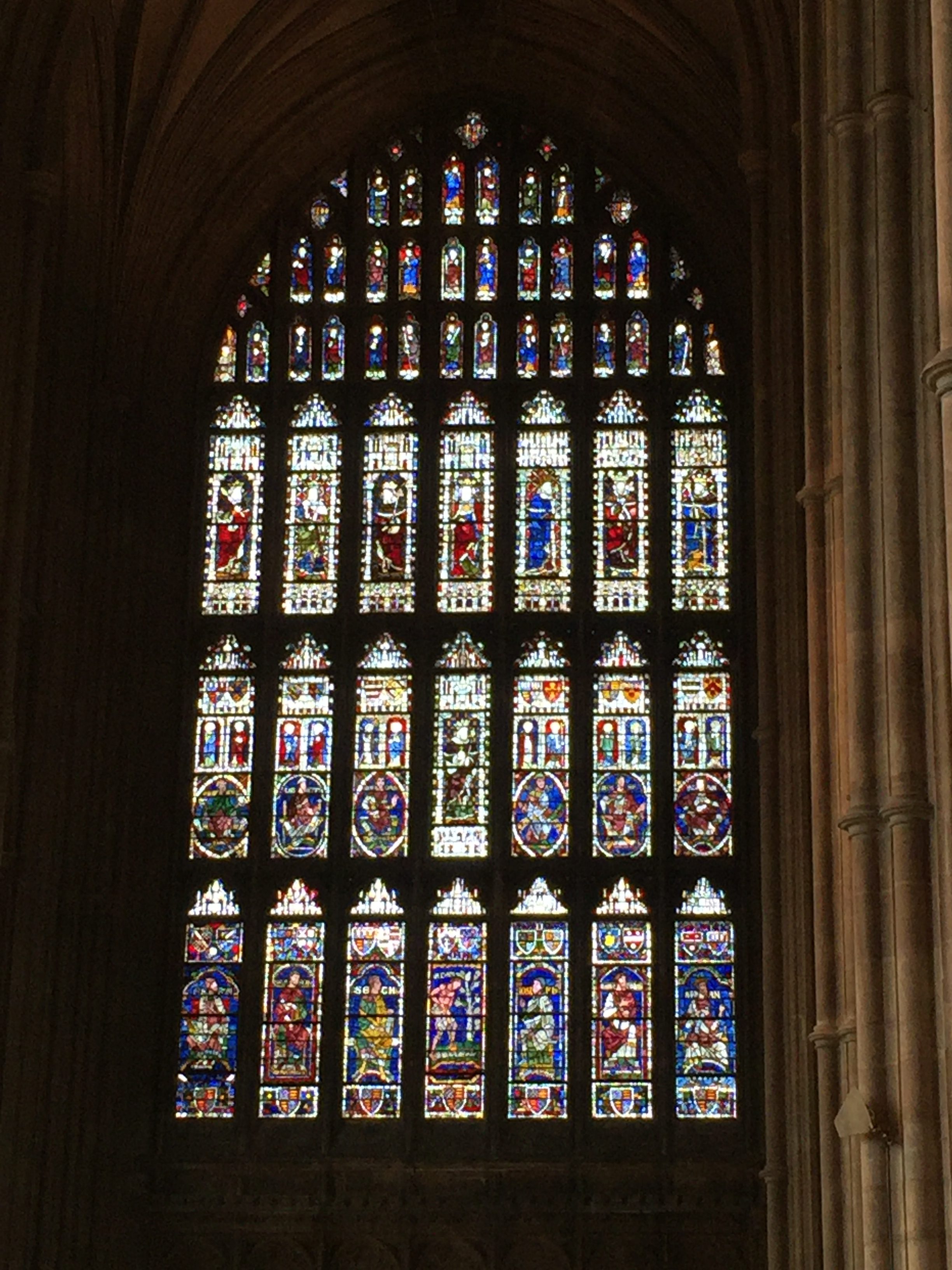 The candle shows where the shrine of Thomas Becket stood until it was destroyed by Henry VIII.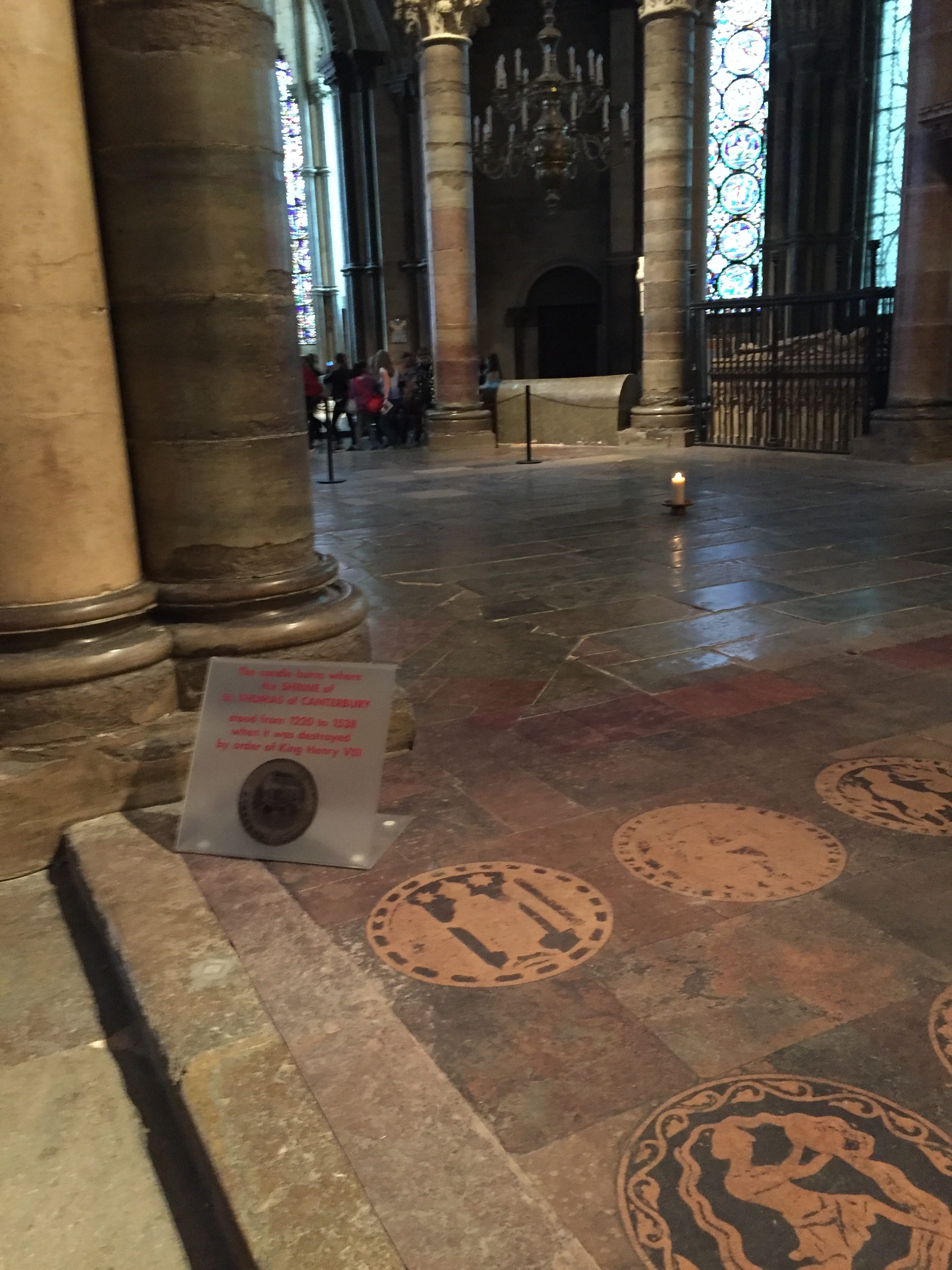 The eagle lectern dates from the end of the English Civil War which ended in 1651.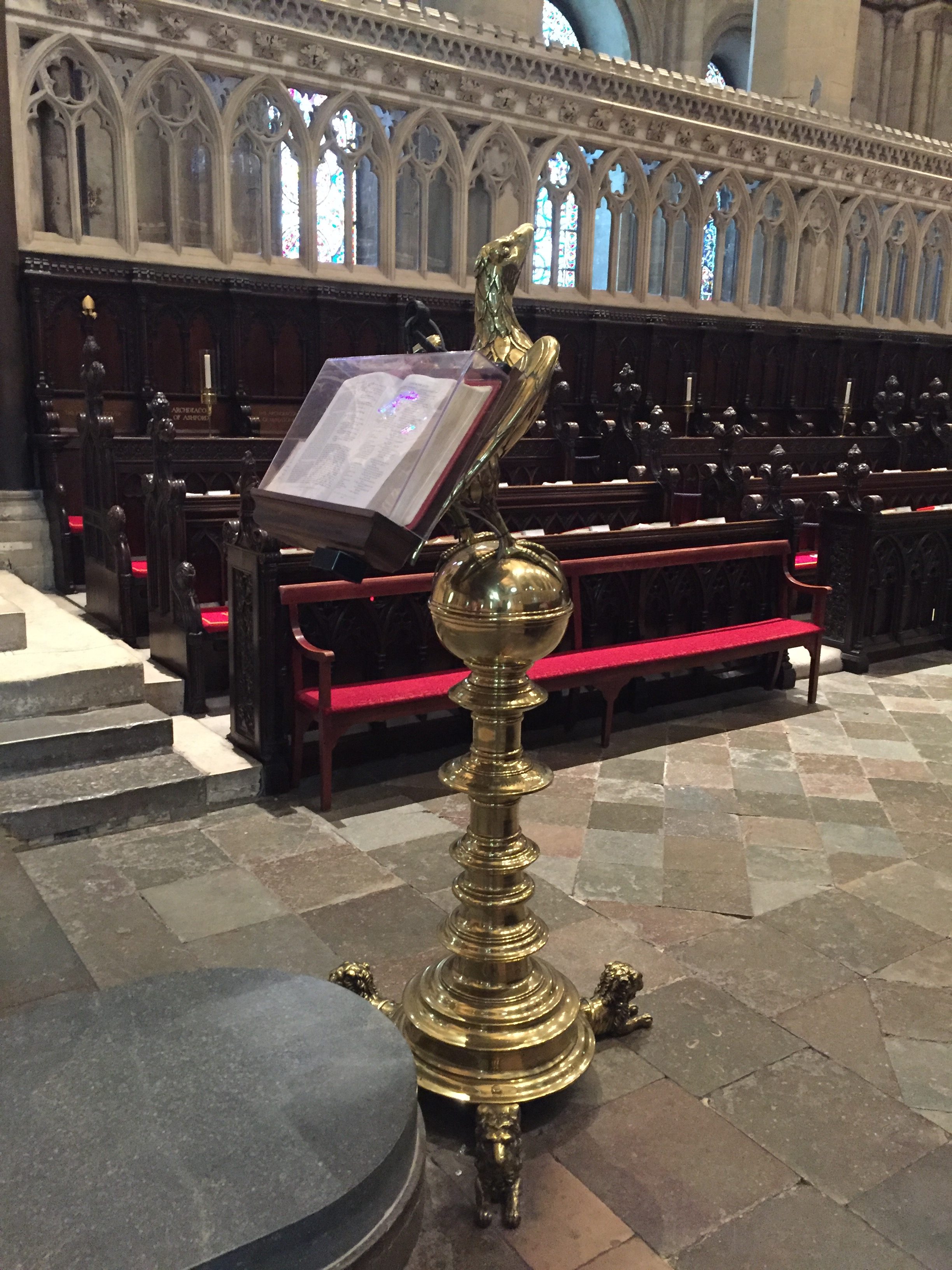 This area is called the Chapter House. Monks would stand here daily, lining the sides while the Rule of St. Benedict was read.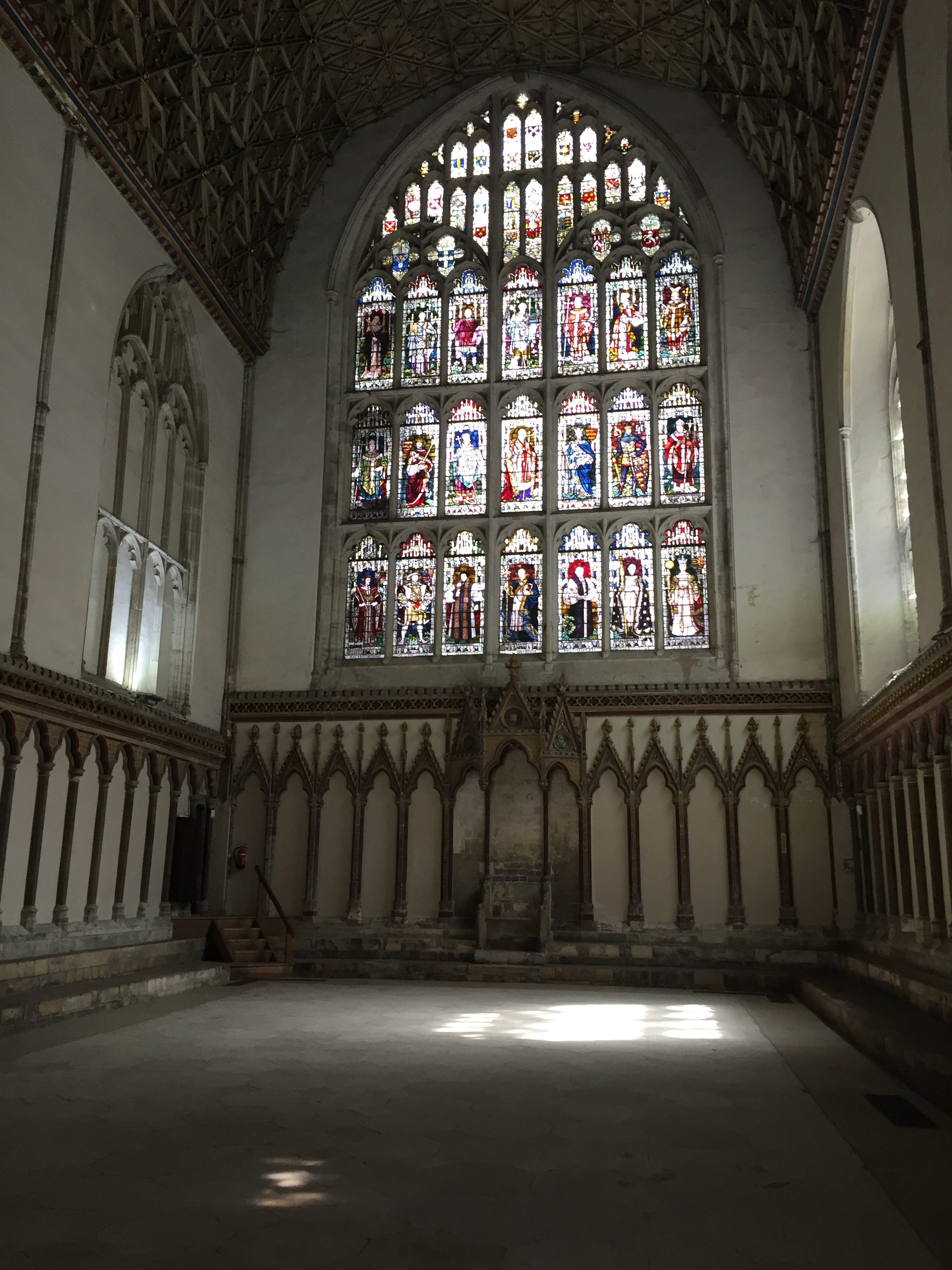 Although most royalty is buried at Westminster Abbey, the Black Prince chose to be buried here.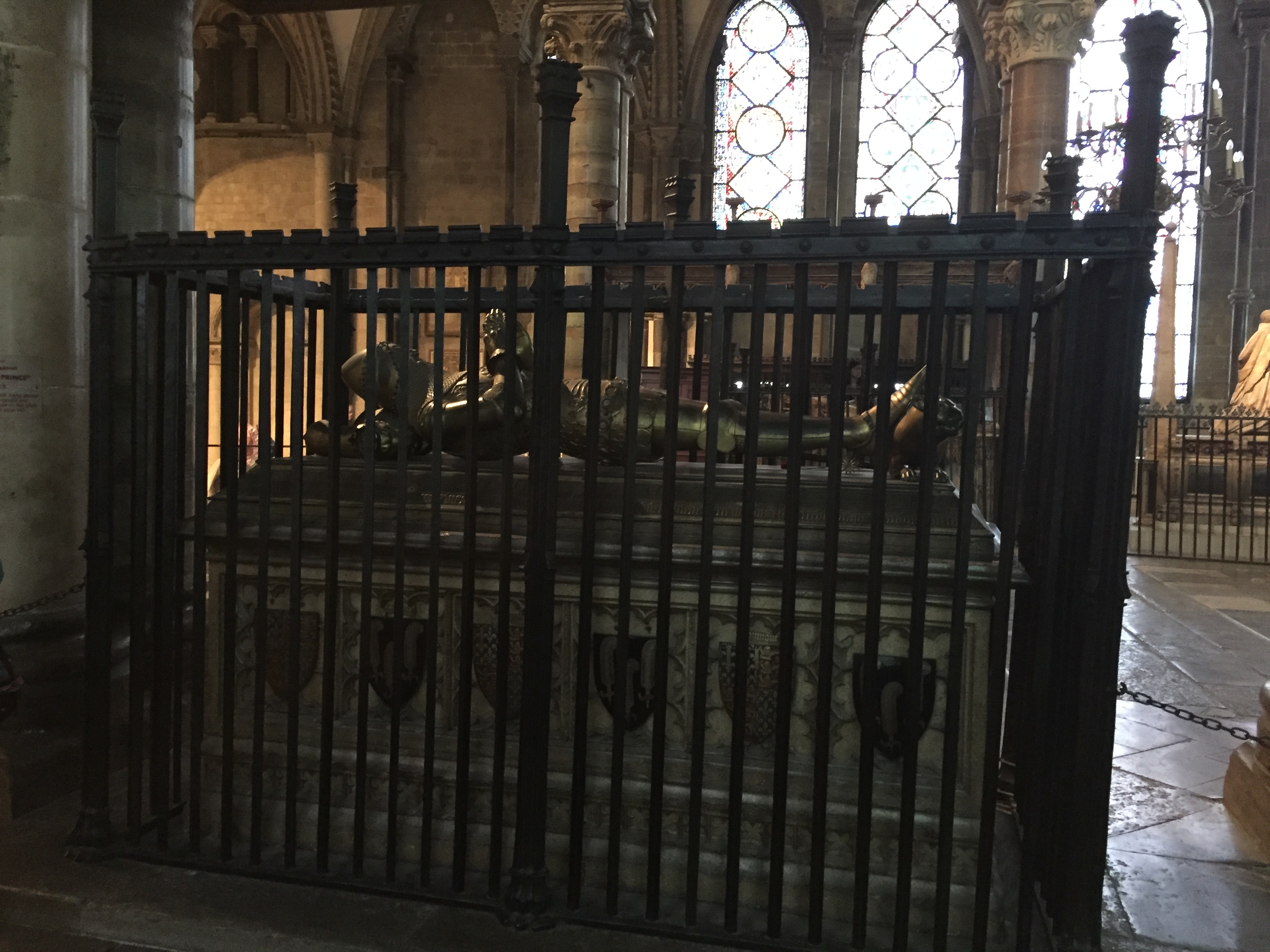 I love the way this picture captures the majesty of this beautiful site.